Post em up here. Give everyone a week to get them in.

~J
---
I finished painting 10 Thousand Sons this month ..early even!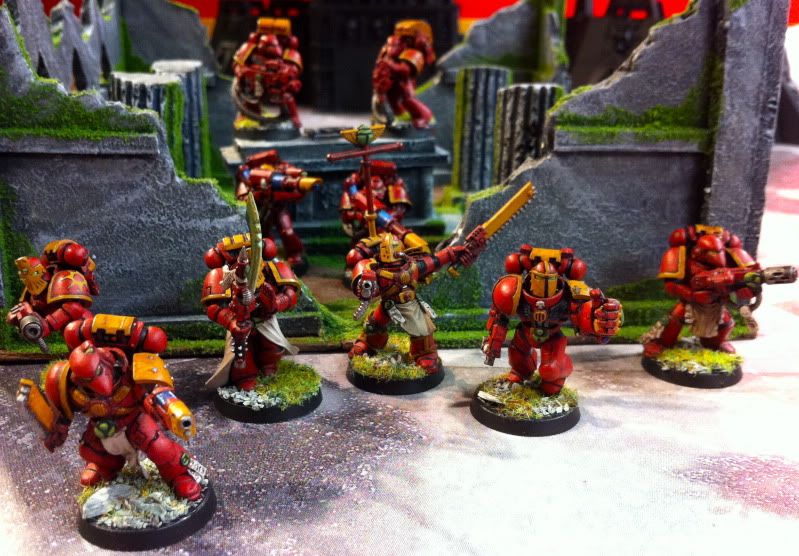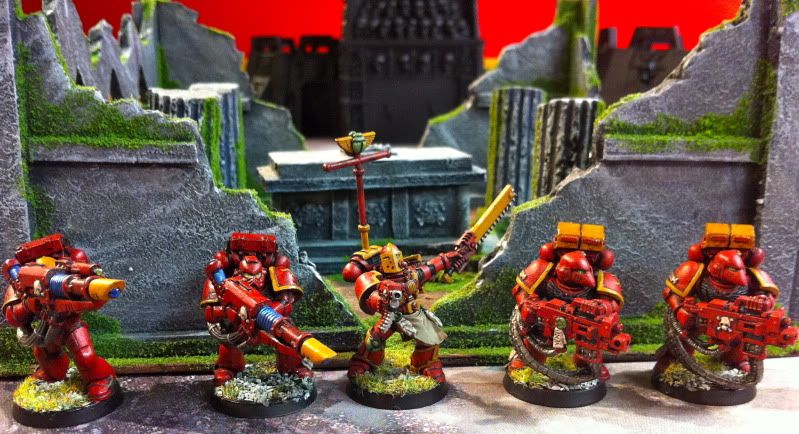 What aims do the Orks have? What is the point of a tornado?
Fighting E.G.A.D.D Excitable Gamer Attention Deficit Disorder
I dig how in a setting where giant, muscled fungus men ride Mad Max cars and use their own teeth as currency, the concept of little engineering dudes with beards was considered a step too far down the aisle of silliness.
ADB
---
Holy crap, I completed a pledge!!1 My first ever tactical squad has been "re-mastered". I took Jrzaza's advice on red trim which doesn't show up too well in the shots (see the single marine there)...but it's on the wrists, elbow pads, and left (still black) leg.
The downward arrowhead/spearhead symbol on their left knees are their squad symbol. Most squads will get something much much simpler (i.e. a stripe or two) but as this was the first squad I had ever painted myself and were the first to get remastered, I thought I'd go "a little crazy." Also, finally, chapter symbols! My freehand needs work, but they're serviceable.
Fat chance people still stop asking me if they're Black Templar, but
maybe
...
You may notice that this "tactical squad" is only nine marines strong. Well, it's true; this was a narrative decision. My tactical squads don't intrinsically get heavy weapons; instead, the Devestator contingent of the company loans out a specialist to a squad at need. Thus, I'll be remastering all of the heavy weapons guys at once and giving them their own unique "squad" symbol. (Not sure what yet.)
As I'm not an official club member, feel free to omit me from the voting. <3
Thade = Steve

While the enemies of the Emperor still draw breath, I have some faces that I need to crack open. @_@
---
- Jeremy
---
i spent far to long on a steel legion vet squad, and i wrote some fluff
.
gratz all, keep it up.
---
Here's Lemartes my pledge from last month. I was pretty happy with him until I frosted him with Purity Seal. The sucked but he looks good on the table top.
And of course this month, I painted a Land Raider Redeemer. It went a lot faster than I thought it would, guess I'm speeding up my vehicle painting.
"Say what you like, I will not fight alongside these madmen. The past proves nothing, except the Blood Angels are cursed and but a single step from damnation."

Brother Captin Yuron of the Adeptus Astartes Patriarchs of Ulixis

I'm Bryan and I'm not pious.
---