Now that we have discussed the differences between the honorable Empire and the traitorous Rebels, we shall move on to the next topic of discussion - objectives. Armada is not some barroom brawl with the only goal being the destruction of your enemy. If you can outsmart and outplay your opponent, you can be victorious without firing a single shot. This is all made possible by the inclusion of objectives.
When you build your fleet, you choose one objective card from each category - Assault (Red), Defense (Yellow), and Navigation (Blue). Without going too deeply into Initiative, the player who spent fewer fleet points chooses to go first or second
before
looking at their opponent's Objective Cards. Once Initiative is determined, the first player picks one of their opponent's objectives for the game.
Let's take a close look at an objective card: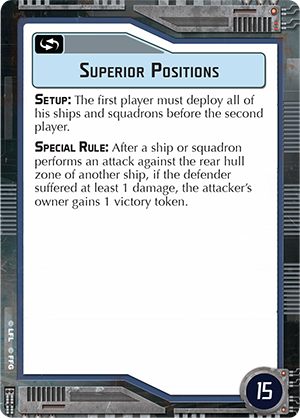 - First, the color along the top tells us its type (Navigation).
- Setup includes any rules that modify standard board setup, including deployment, placing of objectives, whether a certain ship has to be nominated for the mission, and any additional tokens that need to be placed or allocated.
- Special Rule describes what effect this objective has on the game.
- End of Game tells you any additional steps you have to take once the game has finished.
- Lastly, the bottom-right corner tells us how many points you earn by claiming victory tokens or controlling certain parts of the battlefield.
Now let us discuss each objective, when to include it as part of your fleet, and when you might want to choose it as first player.